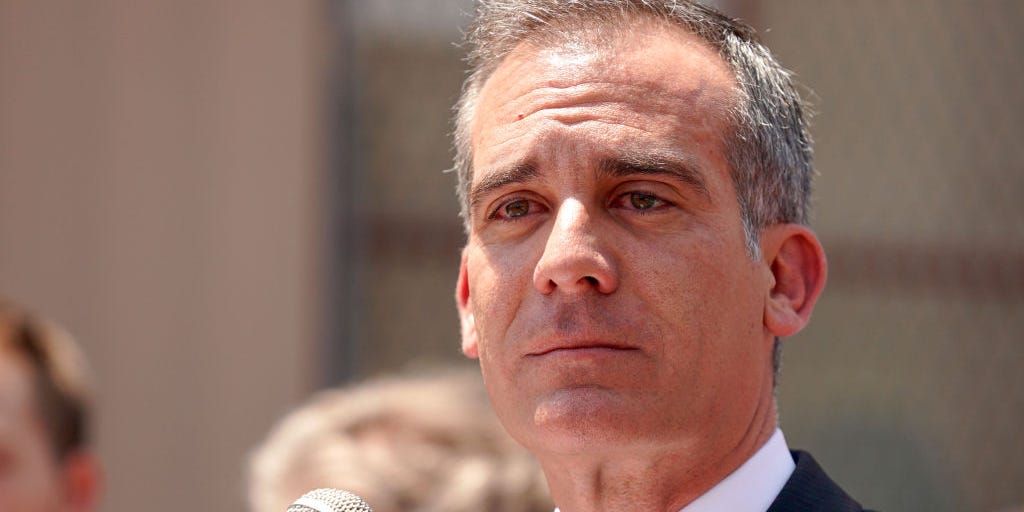 27 Mar

Los Angeles Mayor Eric Garcetti warns of mass death, condemns 'false hope,' and tells us his city will be on lockdown for another 2 months — and to 'be prepared for longer'

Los Angeles Mayor Eric Garcetti wants people to have hope amid the COVID-19 pandemic, and to recognize the human kindness that can arise in times of tragedy. But in an exclusive interview, he told Business Insider a "premature optimism" that isn't grounded in data will only cost more lives.

And the data, he said, paints a grim picture — both for Los Angeles and for the rest of the country.

Millions in the city are expected to remain in their home for the next couple of months, and thousands of the poorest residents are still sleeping on the streets. Across the US, he said, a failure to engage in social distancing could cost hundreds of thousands of lives.

In a wide-ranging interview, Garcetti told Business Insider that LA does not have the medical resources needed to prepare for the coming influx of critically ill patients; that residents will soon be confronted with an unprecedented number of deaths among their friends and family; and that, while humanity is resilient, the crisis will fundamentally change life in the city.

Mayor Eric Garcetti: Well, numerically … I have to get the numbers correct, but the number of cases we have for a county of 10 million people versus the number of cases they have in New York City with about 8.36 million people, if you do that per capita, we're about, depending on how you exhume the rate of increase here is, it's anywhere from about six to 12 days.

I hope that implementation earlier of social distancing in our curve will pay some dividends, but nobody that I've talked to from the medical, hospital, and data communities believe that we won't hit a point in which cases overwhelm our ability to treat them. So there's going to be really tough days ahead in which we're very hurriedly trying to prepare plans for extra beds.

Thankfully, the United States Naval Ship Mercy is coming in later this week. That'll relieve 1,000 beds from our area hospitals. We're trying to recall staff, medical personnel that might not be working, or even recently retired, or ready to graduate from school, and all the supplies that we need.

So just from a medical perspective, I think with reasonable confidence, we think that in the next week or two we're going to be at that point in New York City. New York City isn't overwhelmed yet, but they will be in a matter of days. So probably for us, you're looking at two to three weeks before we would hit our hospital capacity and need to start spilling over into whatever we can prepare for now.